I was wasnt able to attend the PHA Conference, last year because I ended up in the hospital. I still had my airline ticket that I needed to use before it expiried. So after talking with the gals in chat and I do have to admit I was a bit mad at my hubs. I decided to go to Houston. Ity took me a while to decide what day, and also wait on Dr's and Acreedo letters. I fiannly made the reservation. OMG I could not beleive that I did it. I remember going into chat and the girls were all happpy cause I was going, but when I was in chat and everyone was talking about it. I would ask myself OMG what Im I doing?
I left on Wednesday, April 29th and came back May 5th. I still CAN NOT believe I did it! I am soooo scared of flying and this time I was for the first time going to fly alone. My husband took me to the airport, we said our good-byes and I went on my merry way. ( my hubs didnt believe I was actually going, and by myself). 30 minutes before I boarded, I took a pill that my PH Dr. Rx to me for nerves and nausea, it actually worked a lil. It was a 3 hour flight.
The plane finally landed at my destination, Houston, TX.
My friend Jen, with her hubby Manny, were already waiting there for me. Jen had told me were to go meet them. I think it was like a day before I left. They were there, right where she told me they would be. I was so afraid someone would forget about me, LOL. Man!!! it was soooo good to see Jen again :) and Manny also, but I was glad Jen was there! I was really nervous about meeting the rest of the gals! After Manny gathered up my luggage, ramp and all! We went on our way to his truck. I sorta showed him how to use the ramp and how to drive my wheelie(which by the way weighs a ton) up his truck! He had it done in no time and before you knew it he was an expert on doing it! I was very thristy and a lil hungry, so Manny took us to Sonic! Yummm the lemon slush was sooooo good! Nice and refreshing :)
We arrived at Jeannie's house, Edna and Marcia were already there waiting for us. I was still a bit nervous about meeting them, but it was GREAT!! Marcia and Edna came to me and gave me a BIG HUG. And welcomed me to Houston. I asked where is Jeannie? Edna tells me she's inside I said is she coming out? And Edna tells me, there she is! She came over to me and also gave me a BIG hug, she told me you made it! And told me it is so good to finally meet you! I think I was a more calm now, LOL.
We had dinner and talked, we laughed alot also. Marcia took Jen and me shopping, for food to cook and she also took us to Sam Moo, its an accessory store with lost of nice things! It was fun, thats were Jen and I found our tiara's!
We also went to a BBQ place and went to see the Beer Can House, it was neat! Thursday with Jen's and Marcia's help I cooked a mexican meal! Everyone loved the food, I was glad! Friday we went to a Mexican restuarant and had Margaritas :) Yum! we also ate, LOL the food was good!
Here are some of the pics that we took, enjoy!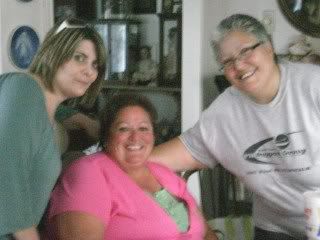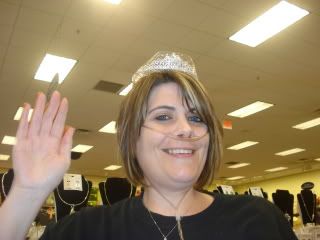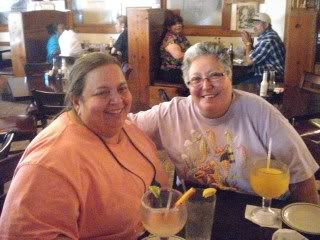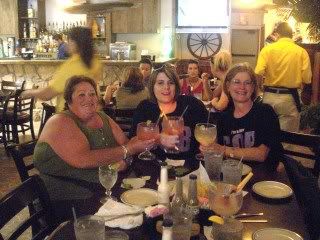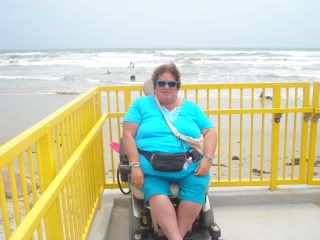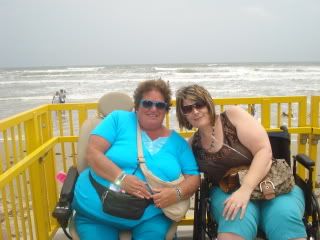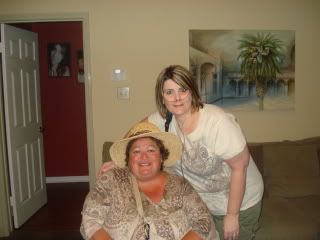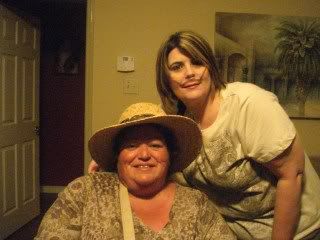 Jen, Marcia and I stayed at Jeannie's house until Saturday. Marcia left in the AM after breakfast. And Manny picked Jen and me up at 12pm. I stayed at Jen's house until Tuesday. Jen , Manny and Kayla took me to Kemah (sp)? We had dinner there with Jen's sisters, BIL, nieces and nephew. The next day they took me to Galvaston Beach. I got to put my feet in the water! LOL I was like a lil girl, so excited about getting them wet! They took me to a souvenier place. I bought a few things to bring back home. After that we had lunch, it was yummy! We then headed back to Jen's house. Monday Jen and I sorted and divided beads that Jeannie gave us! There was alot of them. I also should her how to wire wrap earings. Jen made lasagna and she wouldnt let me help her. It was very good. So Tuesday we got up at 5am, got last things ready and they took me to the airport. I gave Jen a big hug and Manny also. I tried very hard to hold back my tears. I went off and I wanted to turn back and wave at them but I just couldnt, I didnt want them to see me crying.
I had sooooo much fun! I am so glad that I had the balls to do this! I will never forget how much fun we all had, how much we all laughed our asses off!!
I am sooo thankful for you gals! For allowing me to meet you all and be your friend! God Bless You Always.. Love, hugs y besos!!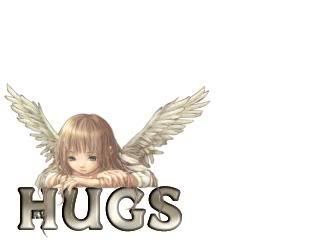 Cathy