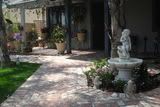 This is a picture of my front porch. All the
brick was layed by husband, a lil help from my son Jose and son Carlos. Before the brick we had sidewalk cement with steps. And of course I had to park my wheelchair out in the garage and walk into the house. Well my husband made it possible for me to be able to ride my wheelchair all the way up to the front door and into the house. I love my front porch it is so relaxing and serene. When we get cool days and breezes I love to just sit out in front and listen to the birds, look at all the plants and flowers. You can't really tell from the pic, but towards the front porch to the left is another brick walkway that I can get to on my wheelchair and that is were my husband planted my vegetable and spice garden. So I go out every morning and see what is ready and I pick it!
So anytime anyone wants to come and enjoy a nice relaxing evening with me in my front porch you are all welcome :)
Have a great holiday weekend!
((HUGS))))
Cathy


A better view of my front porch and the side where I have my vegetable garden , sorry so BIG, LOL